In the evenings he attended theater performances, song, dance and story-telling. Twenty years Yadochara he met a very young and beautiful girl, be friends, then falls in love with her. They were married and the father of Shidarta very pleased three palaces built for newlyweds: a sumptuous palace of cedar and sandalwood for the winter, a marble palace for the summer and a brick for the rainy season . They lived happily. After ten years a child was born, the fruit of their union, they named Rahula. The father of Shidarta Gautama, happy about that, assured of the succession for two generations, held a huge party where all guests can enjoy excellent food, drink and entertainment. But the father of Shidarta is wrong: neither marriage nor fatherhood have subsided in the heart of Shidarta thirst response to existential questions.
Increasingly regularly Shidarta folds solo : Away from the palace further and further, to contemplative walks. And that is where the messengers of his destiny appear before him in the form of four meetings, shocking for those who remain is confined to a life well protected.
He meets a leper in the first leaving Shidarta upset compassion, in tears, he joined the palace where he will cry all night thinking about what he had seen.
Evenings he following the discovery of an old man, and that of a dying. Tripling shocked by these discoveries he takes refuge in solitude and despair, wondering what could be the meaning of all its discoveries. No one brahamane or religious at the time could not give a clear answer on this universal reality. Then he began a fourth exit in secret away from the palace and a little further, near a river, made his religious ablutions. The Brahmin invited to share their meals and they had a conversation that will end very late in the evening. This meeting was very telling of the life choices that Shidarta secretly aspired. The next day he called his servant closest (plus servant friend) and asked him to harness his horse and bring him into the wood.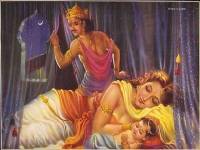 And there Shidarta told his servant:
Take my clothes and give me yours, take my jewelry: I know that when you return to the palace my father will be angry against you, these jewels of great value, you can the sell at good prices and support your family. Take my horse to the palace. Say goodbye to my parents and my wife also. Tell them that I will not go! The way my name is destiny. You know My friend, last night I had a strange dream: the gods and demons fought and quarreled about me. The gods told me that the destiny of all mankind was in my hands, and the demons I spoke of sovereignty, kingdom of power. And I made my choice, I can not myself to a temporal power since everything is impermanent; when it comes time for my death the kingdom will be totally useless. Only the quest then discover the truth in itself might help and more useful to all mankind living in ignorance. Tell them that I chose my destiny in connection with my motivation. Tell them that I chose the path of virtue and the rigor of a religious life. Tell them that no human or demon can not thwart my destiny. Tell them that I do not.
And
Shidarta away. Sank a teardrop on the cheek of the servant and friend of Shidarta.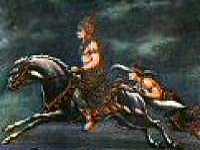 Leaving behind his life prince walked Shidarta several weeks to go as far as possible from his former life as a new life began for him. Arrived Suzatha, not far from Bodhgaya, he began to attend shadus ascetics and surrounding areas. Following their example, he led for 6 years a life of asceticism. Diciplina practicing and the posting of any pleasure, it feeds on a single grain of rice per day, slept on the floor and drank water from the river. Very thin, if not skeletal, he fell ill. But then a girl passed through there, from the village of Urail; the girl osa overcome taboos of the time taken pity at the sight of this dying man whose body teeming flies She approached Shidarta dying and offered her a dish of sweet rice pudding. She said:Bagawan Indian term that is used when addressing a person holy , take this food: that you practice compassion, do you no pity for yourself? "And
Shidarta Gautama gradually opening their eyes saw this beautiful face, smiling, white teeth: the face of a teenager who just out of the childhood, his long black hair further embellishing his pretty face. At the sight of this girl Shidarta Gautama was a kind of revelation. Neither the life of luxury palace Kapilavasdu, nor the rigors of life of asceticism did led to the realization of its own truth in itself. Still no change and no real achievement, the Shidarta prince and ascetic Shidarta are not so different than that! Gods and demons, day and night, man and woman, duality is thought Shidarta. Its 6 years of mortification and extreme abstinence only led to this situation: sick and dying. Shidarta While returning from his thoughts ate and ate, drinking all his thirst.



<chapter 3>
back home>
S.V.P sponsorizer boudhatour cliquez ci-dessous S.V.P>
Mobile blogging service