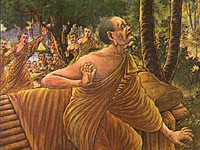 The next morning when his accounting Angulimalla dismal harvest fingers already cut, there were nine hundred and ninety-nine! He had to kill one last person to arrive with a thousand fingers and thus achieve the desired account. Hurry to end it took a firm resolution: The first person I see today, I kill

Can he lives after his mother shouted to him in tears:


Oh my son, pay attention to your life, the king sent his army to kill you

Ready to kill anyone to get his finger last - the sword forward, his blade of sparkling flashes of light and stained with blood from his previous victims - look determined - Angulimalla ran to her mother without listening to what she said. The mother carrying her arms in front of his face as to protect the blade Angulimalla rose to heaven.
At this moment Angulimalla come between Buddha and the mother of it.

The same morning, while Buddhas omniscience pondering his next supranormal whole universe in the ten directions at the same time, as he used to do every morning, he saw Angulimalla on the verge of getting caught and killed by the royal army, he saw that the mother was about to be killed by his own son. Took compassion towards them, Buddha decided to intervene to prevent this tragedy. Before he cried parte villagers and warned of the danger Buddha:
Lord Buddha! Please do not go to Angulimalla, it is much too dangerous.
Without listening to the advice of villagers Buddha flying like a bird went through the air save the mother finger cutter, and Angulimalla itself. Buddha knew that despite his guilty Angulimalla error was a potential karmic virtuous, he had accumulated over many lives, and that there was not much to make a Angulimalla Arathi!
So therefore instructed its Angulimalla own mother with a rage to make hair on the head with dread, brandishing the blade sharp, bright and stained with the blood of previous victims. At the moment where the mother was wearing his arms crossed in front of his face as to protect the Buddha come between Angulimalla and his mother. By the supernatural powers of the Buddhas saber Agulimalla he escaped from his hands. Angulimalla So when he saw the Buddha thought:
Both kill the foreigner, it ovoid to kill my own mother!

Having recovered his sword he rushed to
Buddha. This, agile, spun at high speed without any effort, rolling peacefully on the air: from right to left, then from left to right, then top the trees, ranging from branch to branch like a bird glider. More Angulimalla Buddha more quickly ran away from him. Breath, and annoyed by not being able to catch up to him to cut his finger he shouted:
Stop! Stop!

I am arrested me, you are still running.".